Home
5 Mpx Camera, Low-latency HD stream, Night vision, Two-way talk, Motion and Noise alerts, Diary and time-lapsed recap, Cloud Video Recording, Indoor air quality monitoring
A greater sense of security.
An ingenious home monitoring system in just 30 seconds
---
Connect in HD to your home anywhere, day and night
Keep track of all memorable events
Protect your family and belongings 24/7
Monitor air quality
Be home from anywhere
With its ability to stream HD video and facilitate family interactions, the Withings Home is the most comprehensive house monitoring solution.
Works with the Apple Watch
The first security camera compatible with the Apple Watch. Be closer than ever to your house and loved ones. Wherever you are.
A crystal clear video stream, day and night
Thanks to the perfect combination of best-in-class video technologies, Home offers an HD video feed of exceptional quality, while keeping lags to a minimum.
---
Night vision
High quality night vision thanks to the powerful infrared LED and mechanical filter.
High quality video
The 5MP CMOS sensor enables Home to deliver a detail-rich image quality
No dropped frames
Home misses nothing as it uses the latest low latency real-time communication web protocol (WebRTC)
See 135° - the widest angle view on the market
Bye bye fisheye! Automatic dewarping means no more eerie motorized cameras and distorting lenses.
Compare Home's view with other cameras to clearly see the benefits it provides:
iPhone 6 camera
Basic Wi-Fi camera
Withings Home
x12 zoom with auto enhancement
Home's ePTZ- patented technology lets you pan, tilt and zoom in and out of the HD video feed. Home automatically enhances images immediately after movement to show you the smallest details.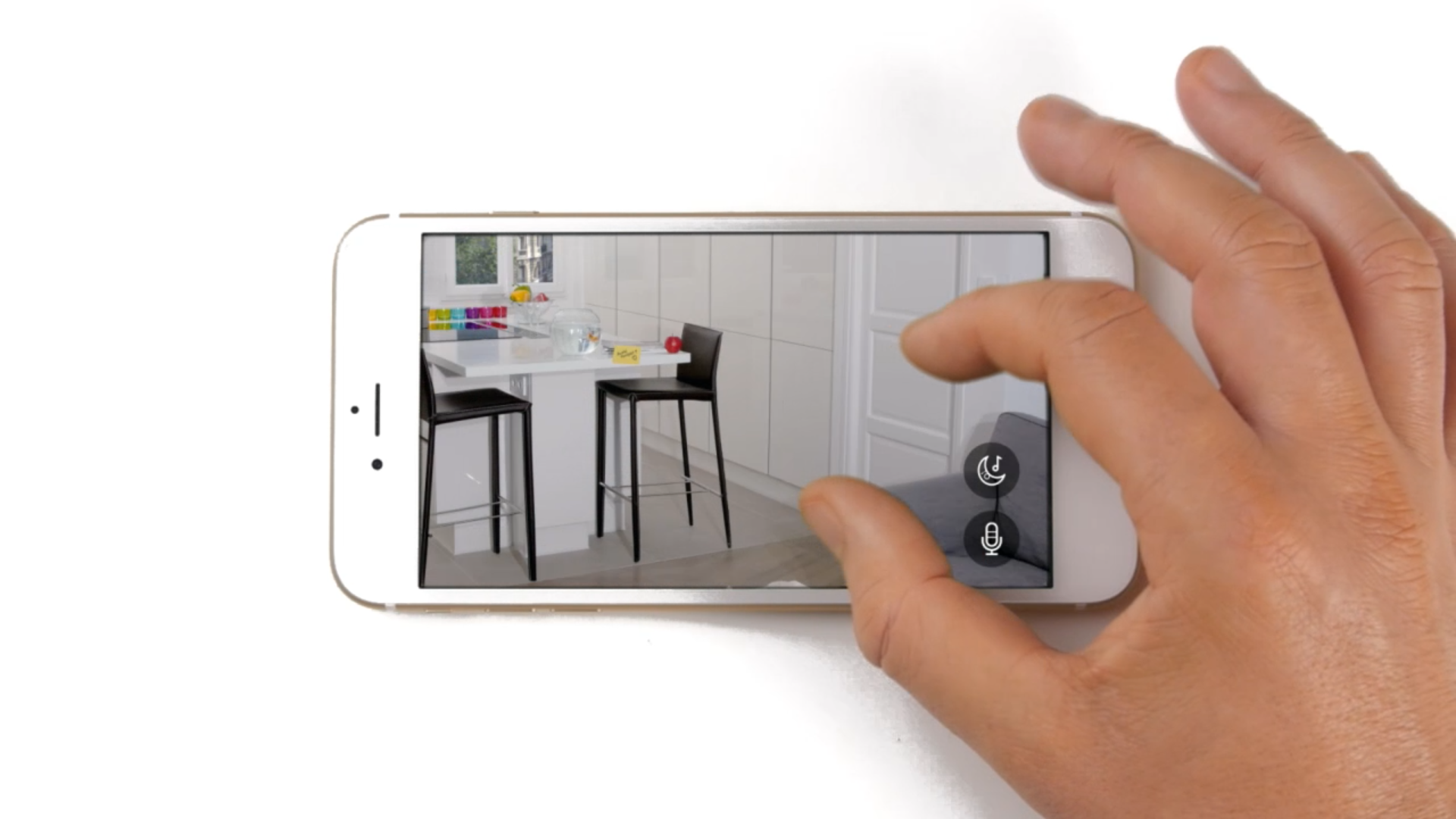 Crystal clear interactions
Roger that! The Withings Home can both transmit and receive simultaneously, while delivering the clearest possible sound.
1. High Quality 2W speaker with a 22 mm diaphragm, covering frequencies from 300 to 16,000 Hz
2. With audio echo cancellation and noise reduction technologies
Never miss
a special moment
With Home you're always in the know. You can even scroll back in time, as it keeps a diary of the events that happen in its vicinity.
Keep track of the everyday
Each time Home detects an event, it snaps a photo or records a short video clip. As these captured moments add up, they form a real Home Diary. Scroll back in time to view up to two days of history.
A time-lapsed recap
At any time you can access a time-lapse recapping the past 24 hours — a quick, and sometimes fun, way to see what you've missed.
12:00 AM
Protect your family and
belongings 24/7
---
Smart alerts
Noise and motion detection. Choose the metrics you want and fine-tune alert thresholds to only receive push notifications when you need them.
Motion
Noise
Human
Air Quality
Withings Cloud Video Recording
Now you can save up to 30 days of continuous video footage so you'll never miss a moment.
Basic Security
Keeps tabs on your family, pets and belongings
Free
2-days history
Animated sequences and timelapses
Improved Security
See and store everything for a week. Perfect for a busy work life, short business trips or vacations.
US$ 7.95 /Month
7-days of cloud video storage
Continuous footage and timelapses
RECOMMENDED
Premium Security
Do you spend longer periods away? Have a need to be in the loop 24/7? This is your plan.
US$ 19.95 /Month
30-days of cloud video storage
Continuous footage and timelapses
Build a healthier environment
The Withings Home is the first video monitoring system that tracks indoor air pollution, which can be ten times higher than outdoor air pollution, allowing you to look after your family's environmental well-being.
Real-time air quality feedback
Being informed of the presence of invisible - yet potentially harmful - contaminants, gives you the opportunity to act upon this pollution.
An easy-to-understand graph, available in the app, shows you past and current levels of Volatile Organic Compounds near your Home. If they reach unhealthy levels, Home blinks red and sends you a notification. With this data at hand you are able to make timely decisions, like opening the windows when using cleaning products or after assembling a piece of pressed-wood furniture.